Why Choose CertainTeed Shingles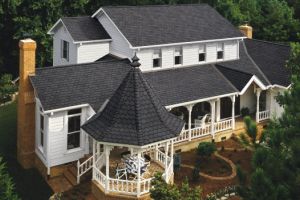 Is your roof ready for replacement? Are you looking at shingle products and trying to decide? If so, you need to seriously consider CertainTeed shingles.
As Carson City Roofing Contractors with fifty years of combined roofing experience, Coyne Roofing, Inc. has worked with a lot of different roof shingles. We've learned enough to know to work with the best roofing products in the industry because of all the problems we've seen with inferior products.
CertainTeed shingles come with the best warranties in the industry because manufacturers know their products are quality made. If you are trying to decide what type of shingle to use for your Carson City roof replacement, CertainTeed is what we recommend.
If you have any questions or need a certified installer of CertainTeed shingles in Carson City, just give us a call. Here is a little information you will be interested in.
Apollo Tile II CertainTeed Solar Roofing System
If you are interested in having a green roof, CertainTeed offers the roofing system you want. Apollo Tile II uses monocrystalline silicon solar cells to create solar energy. It functions as your home's roof.
CertainTeed has manufactured this green roofing system to look like flat concrete tiles. They are beautiful and natural, giving you a clean look. They provide a power rating of 60 watts per solar tile. Call Coyne Roofing, Inc. for more information about solar roofing systems.
CertainTeed Integrity Roofing System®
There are five different roofing products under the Integrity Roofing System® by CertainTeed.
WinterGuard® -This is a shingle underlayment perfect for Chicago. It completely waterproofs your roof which is great in heavy snow and rain-lashed storms.
CertainTeed Integrity Shingles -Talk about high-quality shingles, this is it. They are available in a vast array of styles and colors.
Flat Roof Flintlastic® Roll Roofing -This high-quality roofing product is perfect for flat roofs like carports, canopies, porches, additions, and entire homes.
Roofers Select -This underlayment will protect your roof against leaking when shingles loosen or fall off.
Premium Designer Shingles From CertainTeed
CertainTeed makes designer series fiberglass composite shingles. They are highly durable and beautiful. The color is blended in drops and combined with shadow lines. A rich color and texture are achieved.
Landmark Series Shingles -CertainTeed offers a Landmark Solaris® Platinum and Gold Series shingle. They protect your home from damaging UV rays. They come with a lifetime LTD warranty. This may be the perfect shingle for the Nevada climate.
If you would like to know more about CertainTeed Shingles for your Carson City home, please call 775-265-7408 or fill out our online request form.
More Tips on Roofing Shingles