FAQ About Roof Repairs vs. Replacement In Carson City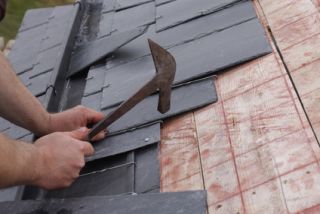 Repairing your roof is almost always a better option than installing a new roof. In most cases, your roof will last many years after the first leak is repaired. Once the leak is fixed with roof repairs vs replacement, you'll have time to plan and save for a new roof. There are always times where replacement is necessary.
At some time or another, we've all wondered when that day will come when we need a new roof. But do you really need a new roof? All too often, most roofers will tell you "yes" without hesitation because they sell new roofs. But how can you be sure? After all, a simple repair may keep you and your building contents dry for years to come.
If you're asking yourself this question, our expert Carson City roofing contractors at Coyne Roofing offer the following tips.
Roof Inspections
The roof of your building can undergo serious damage, weathering, disintegration, or roof failure at any point throughout its lifetime. These things may be prevented or even taken care of with roof maintenance or roof repairs vs replacement. Sometimes, however, the repair will not be enough and you will need a new roof entirely. Have your roof inspected by a professional inspector that you trust. Call Coyne Roofing, we'll always be honest with you.
Roof Replacements
It is usually time to re-roof your home when your shingles are brittle, puffy, cracking, the corners are curled up and you have rusty valleys. Have your roof inspected by a professional roof inspector. You may need a full replacement or partial.
Obvious indications of flat roof problems are cracking of surface, blistering, gravel guard and roof separation at the connecting joints. It is wise to have the roof inspected by a licensed roofing specialist twice per year to decide whether you require roof repairs vs replacement.  Typically after the winter and summer seasons.
Another indication that you'll need roof replacement is when the sheathing is sinking or sagging. It will be obvious at times and at other times there may just be a weak spot in the roof.
FAQ About Roof Repairs vs Replacement
My roof has ugly black streaks on it, does it need repairs or just cleaning?
Most roof stains are caused by the growth of algae, lichen colonies or moss that feed on organic matter frequently found on roof surfaces. Some roofs may have roof stains only on one side or section of the roof, especially in shaded areas where the organisms thrive. Depending on how long the stains have been there, the shingles could have been damaged enough to warrant roof repairs or a complete replacement. Avoid this by keeping the roof cleaned.
I have three commercial building with varying roof types, Tar and Gravel, Modified Bitumen, and a Metal Roof. Can leaks be repaired on all three types?
Absolutely, there are different repair techniques but each has the same idea behind each system. Find a commercial roofer who knows how to properly repair each type. You can call Coyne Roofing at the number below. We are commercial roof repair specialists in Carson City.
I have tried everything to stop my leak. How do you know you can fix the leak when others have failed?
We are experts in finding roof leaks and failures that others can't. Also, the repair products make a big difference. We have a huge success rate in finding and repairing roof leaks, and most leaks are repaired on the first call.
The roof has been leaking for a long time; did the water damage anything else inside the roof?
The answer to that is almost always YES, let's fix your leak first. Then we can investigate the hidden damages caused by the roof leak. It's not uncommon for there to be rotted structures down to wet insulation and into the sheetrock. Have leaks fixed ASAP before more damage occurs.
If you have questions or are looking for a Carson City roofing contractor, then please call Coyne Roofing at 775-265-7408 or complete our online request form.
More Tips on Roof Repairs